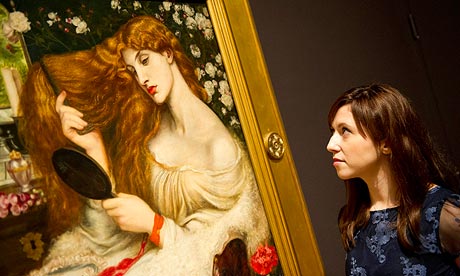 Photograph: Guy Bell for the Guardian
There's a new exhibit opening at the Tate in the UK featuring the pre Raphaelites which tries to place them, historically, as a Victorian avant-garde.
Jonathan Jones has written an excellent essay in the Guardian reviewing the show
. You've gotta love the opening paragraph:
Tate Britain's new Pre-Raphaelites exhibition is a steam-punk triumph, a raw and rollicking resurrection of the attitudes, ideas and passions of our engineering, imperialist, industrialist, capitalist and novel-writing ancestors. The pistons are pounding, the steam is hissing, cigars are being lit and secret lives once more being concealed. The Victorians are back in town. This is as much a costume drama as a show, jam-packed with heroes and villains and innocent victims, holding up a lurid mirror to the age that built Britain.