I cannot begin to imagine what is happening in Oz. There's 108 confirmed deaths and the photos are just mind-boggling. From
The Guardian
:
At least 750 homes have been destroyed and more than 330,000 hectares burnt out, while authorities said some fires could take weeks to contain.
Jim, from Tanjil South, was seeking refuge in his swimming pool with embers dropping in the water around him when he called ABC radio to describe his ordeal. He said it was as dark as midnight, and "we can smell the fire... we're still in the pool here and we can hardly see here, it's so dark".
You get used to stories of brushfires from Australia, but this is a whole 'nother level of bad. The Guardian published this illustration--check out the numbers--20,000 hectares on fire, 2,000 hectares on fire, 210,000 hectares on fire.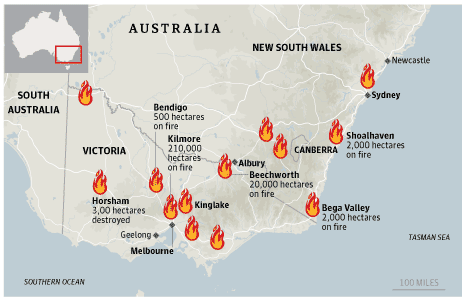 Linked from the Guardian website
There's also an interactive map from Google Australia
here
. And The Guardian has two dozen
photos here
--some of these are unreal, showing a wall of smoke shot through with flames over four stories high.  There is also
two minutes of video
that give some slight sense of the speed with which the fire is moving--five minutes from there to gone.
For a broader overview of what's happening, check out Natalie Bennett's column
The 'Continent of Smoke' is still burning
.
Powered by ScribeFire.